Presenters from Swiss television wear the Media Jacket as a Meteo work jacket.

I saw the Media Jacket and immediately fell in love with it. And so far it has done everything it promised. For me as a reporter it is particularly important to have clothing in which I stay absolutely dry, which nevertheless lets me move freely, has thought out pockets, and which doesn't look like a work jacket in front of the camera. All of this is no problem with Heike Hüning's jacket. It goes with casual clothes and also fits over a suit when the weather makes it necessary. I have worn it now several times on live TV and it goes down well.

At any rate I would not like to go without it.

Carlo Schlender
RTL-news reporter, editorial department RTL Aktuell, RTL Television GmbH, Cologne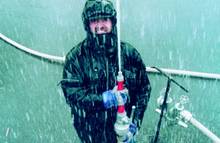 ...is often the answer when you ask your colleagues on set about their clothes. In the cold half of the year the standard work clothes are normally poorly suited, often down filled, outdoor jackets. The Hamburg fashion designer Heike wants to remedy this. After extensive enquiries among film technicians, and based on her own experience, she has developed a specially tailored work jacket for film and television technicians, which was unveiled at the Cinec. Since then I've worn it a month long at work, you could say: "tested_. At the first glance Hüning's multi-functional media jacket resembles a normal all year outdoor jacket. It is, however, a specially developed work jacket for the industry. The outer-jacket is made of Gore-Tex "Basel_ 2-layered laminated, a particularly robust Gore-Tex material. Despite the incredible robustness the material is pleasantly soft and quieter than stiffer materials. The test jacket was matt black for good reason, but the jacket is available in other colours. The removable inner-jacket is made of Gore-Windstopper "Glacier_ 3-layered laminated, a downy material like fleece, but which breathes while being wind-proof. On outdoor shoots this combination offers first rate protection against the cold, wind and rain. When you are standing around for hours on end it keeps you warm, and during hard physical work it allows body perspiration to dry without letting the body cool. With this in mind, the jacket has a longer cut than normal hiking jackets providing the lower body with extra protection. Apart from excellent protection against the elements the jacket offers numerous practical functions, like a detachable walkie-talkie pocket suitable for Motorola, Radius etc.; a shoulder-mike loop on the left shoulder; unzippable parts; a Windstopper lined reversible hood; large outside pockets; miscellaneous inside pockets for, for example, unfolded DIN-A4 documents. They won't emerge again completely uncreased, but they will be dry, even if it is raining sideways. Writing utensils and mobile phones can be kept in, for example, the arm pockets, which are easily accessible and lay very close to the arm so their vibration-ring can be felt. The production quality is very high: all important seams are water tight and all zips are from Swiss company Riri and are the best in the world. Several broadcasting companies are already considering equipping their personnel with jackets finished by Fuchs and Schmitt in Aschaffenburg. This is available in specials lengths and in a male and female cut. At €479.00 the jacket is certainly not cheap, but for specialised work clothes of such high quality it is not expensive. If you were to look for an equivalent combination of materials, for example, a Jack Wolfskin, you could easily pay €550.00, and that is without the specialised design that Hünings Media Jacket offers. It is also worth mentioning that the jacket complies to Euronorm 343, regarding weather protection for clothes, and is therefore eligible to be deducted against tax. A study by Gore even discovered that hard weather clothes made from Gore-Tex reduces sickness among employees who experiences long periods of bad weather. The bottom line is that it is worth it.

For further information on the Media Jacket from Heike Hüning is availaible at www.heikehuening.de. An order form can also be downloaded there.
Article for Film&TV Kameramann, publication 12/2002

Ian Umlauff
VFX-DoP, VFX-Artist, SFX-Technician
Film journalist.


Bernd Eichinger has also recently become a happy owner of a Media Jacket.

Sierk Janszen of Ground Zero ShowControl and Systemintegration company from Holland is very happy with his Heike Hüning MediaJacket. "It gives me the being-home-feeling wherever I'm working on the job" he says while programming the ShowControl for the IBM and Deutsche Telekom stands on CeBIT 2004 in Hannover
Picture: Sierk Janszen
Le Weesp
The Netherlands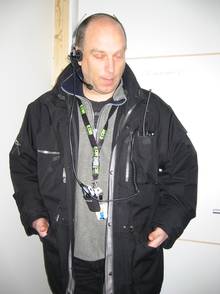 Warsaw, 15.12.2003. 15 degrees. I am walking through the streets photographing City Dreams, a series covering thirty cities worldwide. Beforehand I decided on two points of quality: a Hasselbad and a Media Jacket. I have reported on the camera elsewhere. Here, I would like to give a big thanks to designer Heike Hüning, who has, with the Media Jacket, designed an extremely functional piece of clothing. It does everything it promises: protection from the cold, flexible in changeable weather conditions (China) and robust. Anybody who has ever waited outside for the right moment, or whatever, knows how important the right clothes are. Even a drowned rat has got a fur jacket. I wear a Media Jacket..
Sabine Felber
photographer
Berlin


Winter. Outside shoot in Switzerland. Location: Jakobshorn/Davos. Altitude: 2,300m. Temperature: -17°. Shooting time: six hours, beginning with the first rays of sunshine; afternoons in the shade. Without professional equipment, it wouldn't be possible. Thank you Heike Hüning for your outstanding creation. Thanks to your Media Jacket I was able to film on the summit, the youth of Davos Gymnasium training (where the Swiss winter sporting elite are trained) without immediately being frozen stiff by the cold. It's quite obvious that Heike Hüning's creation is not only the result of theoretical ideas, but of her own experience on film sets. Born from experience, made for the experience - so to say. And the inner jacket that I often wear by itself means that I'm often the object of envy by many people. Not only colleagues.

M. O. Rüdiger, Director, VISIONE Film and television production, Berlin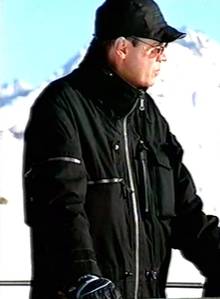 The Media Jacket really is super and does its job under all weather conditions (as along as it isn't 30 degrees in the shade...) It is also very much admired by my boss and colleagues - which is why I'm just about to order two more on your homepage...

Stefan Maier
Production Management
Werner Kimmig GmbH
Oberkirch

Since our meeting at the IBC 2003, and my enthusiasm at home afterwards (because I got it as a present), the jacket has been much in use, and except for the small things has remained in good condition. Florian von Hofen (VPLT) also remarked in his magazine about a year ago that he is not the only proud owner of a Media Jacket...

Jürgen Kupczik, Dipl. Engineer, Director, Prolight + Sound, Prolight + Sound Media Systems,
Frankfurt Trade Fair GmbH

Dear Heike,
finally I had a chance to try out your wonderful cinematographer's jacket. I am shooting a film in Wilmington, North Carolina. It was cold in the winter. I used the warm interior attachment with the exterior goretex for the rain. I am using the jacket every day - it is very comfortable and practical. Thanks for letting me have it.
Warm regards
Vilmos
Vilmos Zsigmond
Cameraman, Santa Monica, CA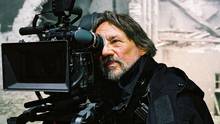 Hello Heike,
Right now I'm sitting in front of a fireplace on the Isle of Skye in Scotland. The weather is very up-and-down... ranging from 26°C and clear skies to rain, storms and 15°C. We've had it all. And in the few days I've been underway I've come to love the jacket.
The concept is simply perfect. Today I was out and about in the rain wearing the complete jacket, after the first shower it was dry in no time at all; on the ferry over to Skye I stood on deck in strong winds... I was warm and I only really felt the wind on my legs.
Because this evening was a little warmer I casually went out wearing only the fleece, which was exceptionally comfortable and, with all its pockets, is even by itself a super jacket.
I have to admit that I was a little sceptical at first as to whether it was really necessary to buy such an 'expensive' jacket. But so far it's been worth every cent...
Thank you and greetings from Scotland!
Nicolas Reiser,
student at HS Mannheim, Communication design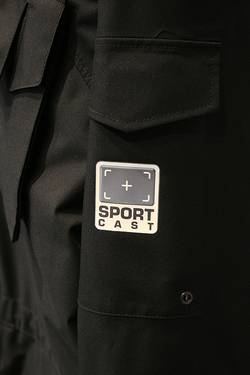 Personnel wear the Media Jacket.
Sportcast GmbH, Köln.

"What you wear greatly influences your whole well being. The fantastic material, the clever design and the solid workmanship of the Media Jacket speaks for itself. An unostentatious companion who is a pure pleasure to work or to go out with."


Dr.DSc.pol. Michael Neubauer
Executive secretary bvk
Federal Camera Association (registered society), Munich

For me as a documentary film maker the Media Jacket unquestionably passed its first winter test. I had been long on the hunt for a jacket that could meet the demands of my work. The Media Jacket which I have worn for half a year now meets all my heart's desires as a cameraman. The clinching points for me are the protection it offers against the weather, the hard-wearing material, the brilliant use of pockets, the lightness of the jacket and its manoeuvrability, which is very important for hand held camera work. A further, important point is its design. It allows a stylish appearance to a variety of different film locations, like a vineyard or the Opera. Also pleased are my colleagues in the sound department, who are amazed by how quiet it is.
Picture: Werner Schmidtke
Cameraman
Stuttgart, SWR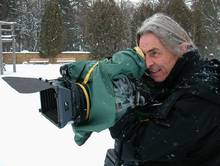 Great design cleverly thought out, a must for the outdoor professional! Makes everybody on the set jealous!
Isabel Snyder, Photography, Los Angeles, USA



I am still very happy with my Media Jacket. I particularly like that it really is rain proof, and I also like the pockets.
I am very pleased.

Markus Fraunholz
Munich based cameraman

I'm still very happy with my jacket, which I've had now for a few years.

Gerhard Suchy
ORPHEUS Video & Sound, Baden, Österrreich

After the time Gerhard and Peter Rezac made me green with envy a few years ago, I also bought one. Soon afterwards I tested it during an open-air production of the Phantom of the Opera in Lithuania in May. I was well and truly delighted with it. The crew was hopelessly soaked through by everything that the weather had to offer. But a mixture of your jacket, Helly Hansen trousers and Salomon mountain boots kept me wonderfully dry and my spirits high. (The show was, by the way, a success!!)
Since then the jacket is a standard part of my equipment, as valuable as the Leatherman and Maglite. If there is a better value for money on the market, I have not found it. The design, practicality, but also the recognition factor ("Hey, you've also got one!!"), are perfectly, and without compromise, blended with one another.
In other words: a piece of clothing with which there are no ifs and buts concerning its suitability to the daily demands of this industry. And I am looking forward to its accompanying waistcoat.

Bernhard Höfert, Vienna

The Media Jacket has once again been there for me over the last few cold, rainy days.
Warm, thick and practical, it, however, never restricts your movements.
After wearing it for 3 years I would not like to do without it.
Still looking good, its design is often commented on.
A wonderful thing!

Robert Berghoff, Kameramann bvk, Berlin

There's hardly a day when I don't wear it. Today, for example, over grey suit trousers and jacket, on my way to an important meeting (where overcoats are often annoying and most jackets too short - then the suit jacket doesn't look good sticking out at the bottom) Otherwise it's also practical for daily walks with my dog – with or without the inner layer, depending on the weather. In other words: it doesn't matter whether it's for free time or work, whether for formal or casual events – with the Media Jacket, I'm always well dressed and prepared for any weather. And I'm also thankful for its many pockets!!

In terms of "jackets", the Media Jacjet has been the best investment in my whole life (and I have more than enough jackets – approx. 25)

Florian von Hofen
Business manager
VPLT e. V.
The Professional Lighting and Sound Association of Germany
Langenhagen/Hannover

After a year I can, without reservation, give only positive feedback. On a winter production in Ruhpolding in January I worked in temperatures of up to minus 20°. The jacket proved its unquestionable reliability and practicality in extreme nightly temperatures in the minuses, by providing perfect protection against the cold as well as showing off it practical features. It also showed itself to be worthy protection against the wind and rain - also without the inner jacket - and was very comfortable to wear. I can - and do - only recommend the Media Jacket. I am well equipped for the coming winter and bad weather productions.

Helmut Losert, Lightsupport H. Losert GmbH, Eng. light design, media and events technology, Udenheim


After long, intensive use in events technology and management the ultimate baptism in water came today for my Media Jacket with the building up of the Love Parade in Essen. After 5 hours of continuous rain not a single drop of water came through the jacket - and that's while maintaining a pleasant temperature inside.
This jacket is really worth every cent!

For me, only one question remains: When are the trousers to go with them coming out?
As soon as they have been designed, please let me know so that I can acquire them as quickly as possible.


Clemens Petzold, dotevent GmbH, Master of Event Technology and Management, Essen